Get Coaching from David Tian, Ph.D., Live In Person, In Singapore!
(NOTE: Registration information appears once the video loads)

---
But You May Be "Dumb" With Women... All Because Of Low "Dating IQ"...
When It Comes To Dating Success, Being A Smart Guy Can Be Your Worst Enemy. Here's How To Stop Overthinking Things... And Start Attracting & Keeping High Quality Women In Your Life
Now, A Powerful
Step-By-Step System

Of Pure Emotional Intelligence... Will Help You Succeed In Even The Trickiest Dating & Relationship Situations…
Here's A Shocking Fact You May Not Know:
For over 13 years now, I've been teaching men how to become more successful with women and relationships... and one problem scenario just keeps coming up over and over again so much that it really amazes me...
Many of the men who are naturally good with women and always seem to have a beautiful girlfriend... are NOT intelligent in the typical sense.
They don't score the highest marks in exams, attend the Ivy League colleges, or work for Google.
They may be AVERAGE in intelligence... but they're SUPERIOR in their success with women.
You've probably heard about "Emotional Intelligence" (EQ). In 1990, Harvard University psychologist Daniel Goleman published a New York Times bestselling book called Emotional Intelligence.
Then, starting in the early 2000s, researchers at the University of New Mexico and the State University of New York identified what scientists now call "Dating Intelligence" (or your "Dating IQ").
… and they found that…
...there's intelligence behind success in dating, mating, socializing, and even romance.
In fact, this "Dating IQ" is a specialized intelligence… that includes our abilities in attracting mates, flirtation, foreplay, bantering, arousal, and other relationship skills.
These university researchers discovered that men with high Dating IQ got the girls, had lots of "copulation" with attractive women, and had their pick of relationships.
...while those with low Dating IQ were not good at attracting women, didn't have much "copulation," and had few, if any, successful relationships.
What's even more interesting is that researchers found that...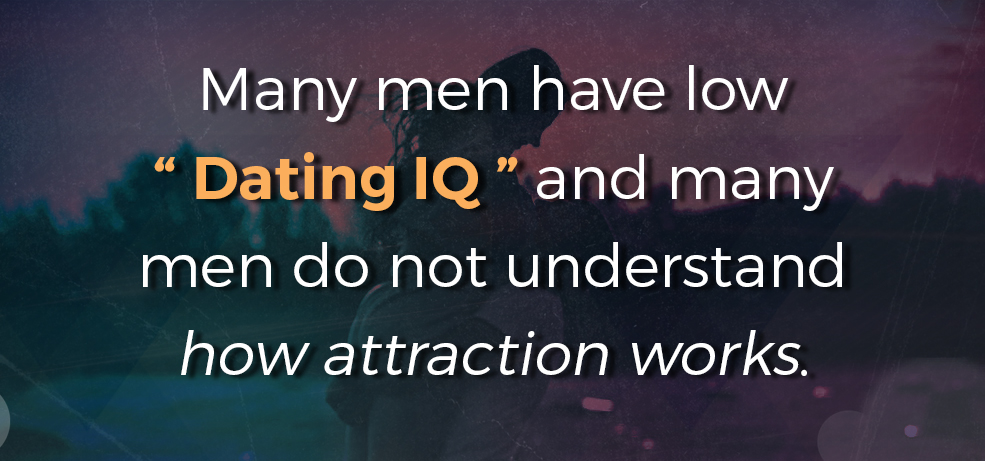 So these low Dating IQ men kept making the same mistakes with women...
It can actually be like having a hammer when you need to tighten a bolt. If you use the tool you have for the job, you'll most likely make the situation worse.
Of course, it's hard for a smart guy to even imagine a situation where his intelligent mind could hurt his chances for success... but trust me, this is one of those situations. So relax, open your intelligent mind, and let me share with you:
I was just like all those guys -- having high "general intelligence"... but abysmally low "Dating IQ."
You see, many years ago, I was a geeky Ph.D. student writing my dissertation… lonely and alone, spending all my nights by myself on my laptop… in windowless library stacks... surrounded by dusty old books.
I got nervous and froze up whenever I was around a pretty girl.
I couldn't talk to an attractive girl if my life depended on it.
And because I noticed that the guys getting all the girls were not nearly as smart as me, I just concluded that intelligence didn't matter. When it came to getting girls, these guys had something that I didn't.
So I just gave up… and resigned myself to being lonely forever.
That is... until I discovered all these cutting edge advances on "Dating IQ" by researchers at Harvard University and other universities.
And after getting my Ph.D. from one of the top universities in the world, lecturing as a professor at National University of Singapore (NUS) and spending over 13 years specializing in this new research...
I rigorously tested this in the real world in my own life... and with hundreds of clients in person from almost every continent in the world.
And I distilled this invaluable knowledge into a step-by-step system... that brought me all the love, connection, and passion that a man could ask for…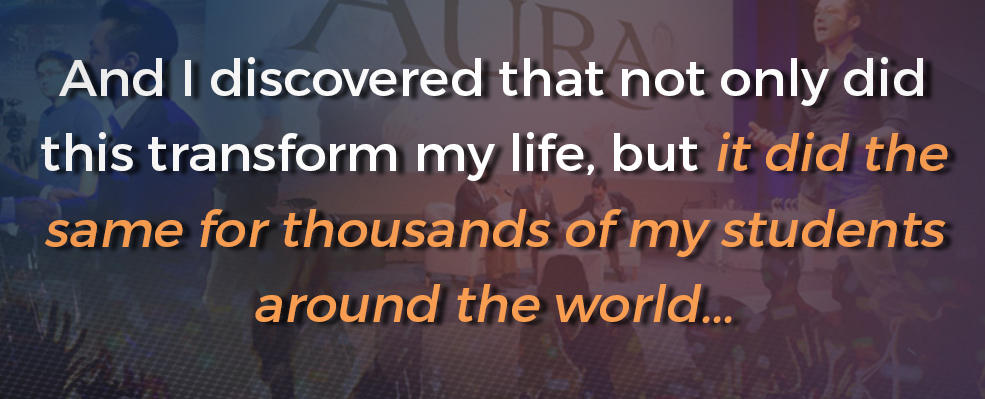 Because I found out that there were many men just like me back then -- "book smart" but with a low "Dating IQ."
Men with low Dating IQ make one or more of the following 3 mistakes.
He tries to buy her attention, affection, and sex with fancy dinners, pricey gifts, or favours, like driving her places in his luxury car.
He tries to convince her that he's a "nice guy" by being sweet, doting, and obedient (… in order to get attention, affection, and sex)
He learns some "pick up" methods from online forums or YouTube... and tries to use these techniques on women, including on Singaporean women.
Have YOU tried any of these 3 common approaches?

Well, remember, you're not alone.
And it's not your fault.
So what's wrong with these basic approaches?
They don't work.
They're expensive and time-consuming.
They don't work on Singaporean women.
Women don't like them.
So what's the answer?
I thought you'd never ask...
Stop punishing yourself emotionally... and instead start leveling up your Dating IQ... and discover powerful, tested, GUARANTEED methods for to attract higher quality women and get more and better dates.
Here's how...
Your Dating IQ is a domain-specific type of intelligence that's part of the bigger category of "Emotional Intelligence" (EQ).
Dating IQ is a special type of EQ.
Researchers have found that unlike general intelligence, which is hard to change, Emotional Intelligence (EQ) is something you can work on and develop like a muscle or a skill and watch grow and improve.
The thing about EQ is that it's about how skillful you are with your emotions and the emotions of others.
EQ is about EMOTIONS.
So that means you can't raise your EQ through learning lines, memorizing facts, or relying on logical argumentation.
To elevate your Emotional Intelligence -- and your Dating IQ along with it -- you'll have to get smarter, stronger, and more skillful at sensing, processing, and regulating your emotions and the emotions of others. And this is best done through a system of psychotherapeutic processes that directly develop your emotional agility.
I'm going to guide you through this therapeutic, step-by-step system for becoming a charismatic man who naturally attracts amazing women.
It's a system I've successfully researched, developed, and tested for over 13 years with thousands of students from over 87 countries around the world.
And it takes what normally requires months or years of weekly psychotherapy... and condenses and delivers all that transformation in a matter of days.
I reveal this step-by-step system in my new live, in-person event:
What is ELEVATE YOUR DATING IQ?
Elevate Your Dating IQ is a powerful, transformative, 3-day personal development experience that levels up your Dating IQ... and guides you step-by-step towards mastery of your Emotional Intelligence (EQ).
The shortcut hack to elevating your Dating IQ is through a series of psychotherapeutic processes that liberate you from any toxic shame, neurotic patterns, core insecurities, or deep psychological wounds holding you back... and enable you to fulfill the power of your true potential... as the attractive, powerful, and confident man you're meant to be.
With high Dating IQ and EQ, you'll be able to attract and keep amazing people in your life, including your ideal woman, just by being your true self and enjoying a deeper purpose in your life.
I believe this freedom can be yours, but only if you take it!
Join me at Elevate Your Dating IQ for this 3-day, life-changing event.
This isn't your typical rah-rah, pitch-fest type of conference. If that's what you're into, this probably isn't for you.
At Elevate Your Dating IQ, you'll discover critical keys to elevate your Dating IQ and unlock your full potential. Together, we will…
Discover the hidden link between your upbringing and the fears that are holding you back from attracting women (Whether you're having trouble approaching women, making a move, or satisfying her in the bedroom… EVERYTHING is somehow connected to your development as a man. I'll show you how to wipe your slate clean of this "internal B.S." and reprogram yourself with mature, masculine confidence that high quality women look for)
Access your true self… and become the leader of yourself and your life, resolve your inner conflicts, become whole and integrated, and tap into your true power, centerednesss, courage, and confidence
Replace any "Immature Boy Psychology" governing your interactions with women with "Mature Man Psychology"… so you always do what a REAL MAN should do in those tough situations… without even thinking about it (This is THE KEY to auto-pilot success with women – that you can do it WITHOUT THINKING ABOUT IT - whether it's responding with your powerful presence just when she needs it the most or knowing exactly what to say over the phone  - you'll learn how to INSTINCTIVELY know the right thing to do…)
Uncover your true life purpose… so you'll have a new passion to take on your dreams and goals and reach a clarity of vision for your future that drives you forward
Connect with your emotional center… so you'll understand how our deepest yearnings are not delusions but mere inklings of profound underlying truths. Discover incredible opportunities for growth and healing, and awaken your capacity for compassion, presence, and unconditional love
and much more
Elevate Your Dating IQ will accelerate your development as a mature and masculine man, especially your authenticity, vulnerability, and courage.
There's no posturing, fake alpha, tough guy nonsense where you're taught to "dominate the world" at the expense of your values; no 10 random dudes selling you stuff; no B-tier trainers; no bullshit.
I've also intentionally kept enrolment in Elevate Your Dating IQ quite small. This is because if there are too many people enrolled, I wouldn't be able to give adequate attention to all the participants. I've always been a believer in quality over quantity, and this is no exception.
Enrollment is strictly limited to just a couple dozen spots to ensure you and your fellow students receive the highest-quality experience and attention. Once we're full, that's it. Reserve your seat now before registration is closed.
Meet Aura Transformation Founder David Tian, Ph.D.
David Tian, Ph.D., is a world renowned specialist in human behavior, emotional and social intelligence, masculinity, relationships, researcher, author, and global educator.
As an international top personal development coach, he educates and empowers people to attain the social intelligence, competence, and confidence for success and happiness in dating, relationships, and their lifestyles.
He has developed a series of solutions applicable across diverse cultures, contexts, societies, and age groups. His coaching curriculum ranges from relationships, social skills, masculinity, self-development, self-esteem, happiness, and fulfillment.
His presentations, whether keynotes, seminars, or workshops, leave clients with insights into their behavior, psychology, and keys to their empowerment. His training methodologies are the result of over a decade of coaching and education of tens of thousands of students from more than 87 countries.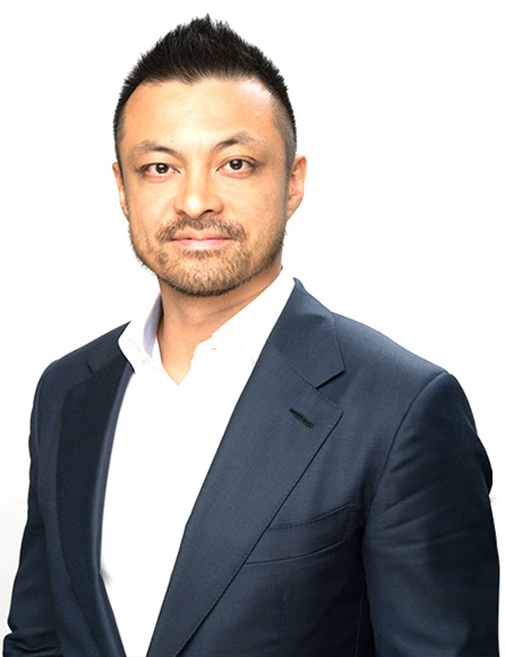 Dr. Tian is unique in delivering penetrating insights into psychology, physiology, philosophy, and people skills that are empirically grounded, rigorously scientific, practical, heart-centered, and astonishingly effective.
Below is a sample agenda. This is NOT the final agenda of Elevate Your Dating IQ.
You will receive the final agenda when you enroll.
10:00 AM - 12:00 PM
Session 1
12:00 PM - 1:30 PM
Lunch Break
1:30 PM - 3:30 PM
Session 2
3:30 PM - 4:00 PM
Coffee Break
4:00 PM - 6:00 PM
Session 3
7:00 PM - onwards
VIP & Gold Dinner w/ David Tian
10:00 AM - 12:00 PM
Session 4
12:00 PM - 1:30 PM
Lunch Break
1:30 PM - 3:30 PM
Session 5
3:30 PM - 4:00 PM
Coffee Break
4:00 PM - 6:00 PM
Session 6
7:00 PM - onwards
VIP & Gold Dinner w/ David Tian
11:00 AM - 12:30 PM
VIP & Gold Debriefing Reception w/ David Tian
1:00 PM - 2:30 PM
VIP & Gold Farewell Brunch w/ David Tian
DAY 1: ELEVATION OF SELF & PURPOSE
A full day of advanced training in psychology and behavior so that you can discover your true self and reveal your real life purpose. You'll understand what actually drives your behavior, shapes your thoughts, and defines your identity and happiness. You'll rewire your brain for success, overcome fear and doubt, become more confident, and develop greater capacity for joy, resilience, and drive.
DAY 2: ELEVATION OF EMOTION & ATTRACTION
Using proprietary meditative techniques, you'll be guided step by step in how to elevate your unconscious mind above the rotten thoughts, memories, and wounds poisoning your mind, so that you can be free from them forever... and finally heal and grow into your full potential. You'll stop self-sabotaging or compensating for the things you're insecure about in yourself. You'll access the hidden power of your emotional center and awaken to your incredible capacity for compassion, presence, and non-needy, unconditional love. You'll uncover your natural attractiveness and charisma to draw to yourself effortlessly the right women for you.
DAY 3: (for VIP & Gold) PEAK ELEVATION…
To cap off this transformative weekend, we'll lock in your gains, so that they're there whenever you need them. You'll get the principles and tools to ensure that you continue to level up in your life for many years to come, enjoying continual elevation of yourself and your relationships... on your journey of lasting love, success, and fulfillment.
DATE: 7-9 June 2019
LOCATION: Downtown Singapore
(exact venue information is sent to registrants upon enrollment)
What exactly makes this event so unique and amazing? Great question!
Elevate Your Dating IQ is the live event component of the FreedomU online program, Dr. David Tian's new flagship course, which he's been developing in some form for more than 13 years. VIP members will get access to the 8-week FreedomU online training, which is the perfect complement to the Elevate Your Dating IQ live, in-person event.
The Freedom U Live event is not only designed to educate, teach, and inform, but also to bring together those who are on similar journeys so you can all uplift, inspire, and empower each other in a supportive community.
Warning! Special Rates Expiring In...
SPECIAL: VIP and Gold members will be treated to private dinners on both nights and brunch on the last day with David Tian. These multi-hour intimate meals with David will give Gold and VIP members the opportunity to deep dive with David into their personal goals, limiting beliefs, or life challenges. You'll have the opportunity to ask David any burning questions you might have, as well as learn from the problems of other members as David works directly with them and you to provide the most effective solutions.
If this is not the BEST personal development event you've been to, simply ask for your money back by the end of Day 1 for a full refund.

---
"I've grown so much as a person, I want to tell everybody about this transformative experience. It's just been night and day — who I am now and who I was when I started. Now that I've gone through Freedom U, I'm so happy, it's awesome. David's Freedom U will change your life for the better in so many countless ways."

Daniel, 28, USA
© Copyright 2009 - 2019 | David Tian Ph.D | All Rights Reserved