How to Discover Your Life Purpose, Unleash Your Inner Power, and Attract The Right Partner for You as Your True Self
The Freedom U Experience: In Their Own Words
"I've grown so much as a person, I want to tell everybody about this transformative experience. It's just been night and day — who I am now and who I was when I started. Now that I've gone through Freedom U, I'm so happy, it's awesome. David's Freedom U will change your life for the better in so many countless ways."

- Daniel, 28, USA
Registration Is Currently Closed
Enrollment opens only a couple times a year. To be notified of our next registration period, enter your email address below:
Perhaps for much of your adult life, you've been thinking... "Real love is just a fairytale or myth. Isn't love just part of the 'happily ever after' myth?"
Well actually, the "happily ever after" myth is that happiness and love should be easy and automatic and natural.
But of course, you know that love and happiness are not easy, automatic, or natural. You have to work at them… until you've laid the right foundations and then they become easier and easier. And it's only relatively recently in world history that we homo sapiens have had the luxury to do so, to live long enough and in enough peace that we can CHOOSE to be happy and to love.
And you've known this. You're listening to me right now. You're still reading this because you know something. What you know, you haven't dared believe in a long time, but you feel it. You've felt it your entire life, since you can remember. You've been trying to keep it out, to fit in with the world of "know it all's" and those who are all talk and no action.
But it's there, like a splinter in your mind, obsessively pricking at you. It's this feeling that has led you here, to still be reading this. Do you know what I'm referring to?
All true intimate love, at its height, claims for itself an almost divine authority. Its voice tells us not to count the cost. It demands of us a total commitment. This kind of pure and noble love attempts to override all other claims and deems any action which is sincerely done "for love's sake" as meritorious. A faithful and genuinely self-sacrificing love speaks to us with what seems like the voice of God. Merely animal or frivolous lust or pair-bonding it is not.
And that is because, in reaching this level of love — Gift Love — we really are experiencing something divine. This deep-rooted notion of love has evolved in us, passed down from one generation to the next for millennia after millennia.
All the things the great poets say about it is true. Its joy, its energy, its patience, its readiness to forgive, its desire for the good of the loved one — all this is real. — all this is real.
I know you too have heard the voice inside that keeps whispering to you, "Love is real. And it's the most powerful emotional force in the world…"
Your inner voice is correct. Your feelings are on point. You've barely scratched the surface of the emotional richness you can personally experience, and you know it. But my guess is that since you're reading this, you're ready to change all that. Whether you're single, in a relationship, a seeker of truth and fulfillment, or just looking to attract only those who would be good for you in the long run —there's one thing that's certain:
Without the Freedoms of Self, Purpose, and Love, your relationships will inevitably fail — ending either in separation or in quiet desperation — and even psychotherapy will eventually fail, even with a good therapist, because you won't be able to open up, be vulnerable, or access your true emotions.
But with these 3 Freedoms, you'll be able to attract and keep amazing people in your life, including your ideal mate, just by being your True Self and enjoy a deeper purpose in your life.

I know this firsthand. After over 13+ years helping hundreds of thousands of people from over 87 countries improve their dating lives, intimate relationships, and lifestyles, I can honestly say that the Freedoms of Self, Purpose, and Love are the exclusive gateway to a fulfilling and rewarding life of passion, connection, and joy.
I've had the opportunity to live my own life and make my own mistakes. My personal experiences — the highs, lows, ups, and and downs — inspired me to create Freedom U.
You could say it is the culmination of all my hard-won lessons over the decades as a professional coach and as a fellow adventurer on the journey of life. I developed the program so I could share the freedoms I've earned and discovered in my life to help others and enhance joy in people's lives. I'll share how I discovered my purpose and guide you to find yours and more. Today, while my life isn't perfect, one of the greatest gifts I have is my absolute certainty that the joy I feel is here to stay and that I can recover it whenever needed. In addition, through these lessons and experiences, I've been able to create an extraordinary intimate relationship with my beloved wife that has brought us love, passion, joy, gratitude, and fulfillment beyond anything I've ever known.
I feel privileged to have the opportunity to share these tools, strategies, and insights through Freedom U. Most important, this is not a process that requires any of us to change who we are fundamentally. Rather, the lessons I've learned all stem from having the courage to lead with our true selves, no matter the context.
To that end, Freedom U goes beyond any of my other programs. It will engage your head and your heart to put the stake in the ground for who you are and what your purpose is in your life. Whether you simply want to take your life to the next level or reclaim your life and what drives you, you will be rewarded if you step up.
And this is why I'd love for you to join us for...
Freedom U is conducted LIVE, so while there are parts of it that are recorded, it also includes a lot of LIVE elements. That's why the timer on this page is a REAL one. Once the timer hits zero, registration is closed, no exceptions. And we begin a new course with a new batch of students.
Imagine if you could take a step by step course that would walk you through the emotional transformation you need to experience the Freedoms of Self, Purpose, and Love for yourself.
Here's What You'll Get In Freedom U
Whether you want to improve your intimate relationships… become more naturally confident… uncover your life purpose… discover your true self… live your life with greater meaning… or experience more joy, excitement, and happiness than ever before… Freedom U can help.
Based on research in fields like psychology and neuroscience… and backed up by concrete results my students have experienced over the years… this is an experiential and not just theoretical course that will transform you on the inside to give you the life you want on the outside.
In Freedom U, you'll go through unique therapeutic processes to help you overcome the emotional blockages holding you back… fill you with a new core confidence and self-esteem… give your life greater meaning and direction… and empower you to be your authentic, true self… who attracts healthy and passionate relationships… and have a sense of purpose to accomplish great things and realize your potential in life.
All course materials, including live streams, online videos, audio MP3s, PDF slides, Action Sheets (aka., growth assignments), and additional resources are inside our online members portal.
You'll Have Support Every Step Of The Way In Freedom U
As soon as you join the program, you'll have guidance and support from a team of like-minded people in a safe and encouraging environment.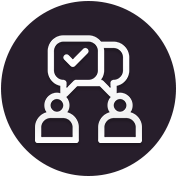 Spectacular Freedom U Team Support
If you have any technical issues or are simply having a challenge you need help with, simply write support@auradating.com and we'll take care of you as quickly as we can.
Got an important question or challenge you're facing? Want a fresh perspective to make better, wiser decisions? David's got your back.
Each week, David will tackle your toughest questions and provide guidance to move you forward. If you can't make it live, just relax because all the live videos are recorded and uploaded into the membership site, so you can access them anytime afterwards.
Everything is Online. No Travel Required
— Learn At Your Own Pace
The program is based online so you can participate from home or work.
You have LIFETIME ACCESS to the training, so you can go through the material each week as it's released in the members portal, or you can slow things down and work on your own schedule.
You'll be able to ask questions, get feedback, and connect with fellow Freedom U students online and with Coach David Tian during the course.
David, I owe you so much. You have guided me on this incredible journey of self cultivation. I fell for so many of the relationship traps that you talked about and was ignoring many of the truths that you have helped me face!

Now i can see, feel, and know with clarity, that the steps placed before my life are the correct ones, and that my repressed selves and my unconscious mind have undergone a process of integration.

There is true value in the work you are doing. I sure as hell know that you've saved me from the wrong path! Thanks to you, I'm now living a purpose-driven life, connected with my true self, and have learned the skill of regulating my emotions no matter what life throws at me. Thank you.

- Thomas Keller,

35, Seattle, USA
Unlike a lot of self-help and dating advice out there, I have found David Tian's coaching course to be honest, authentic, realistic, and long lasting. And he has the experience to follow through with what he sets out to do in his program. He puts in the time to provide what is necessary to give us what we have to do to make long lasting change.

He doesn't market change, he creates it in us. David provided me with the necessary skills to master the many areas of my life that I was struggling with. I have come through a black hole of dark depression, chasing women, and avoidance of confronting my core issues, and neglecting my social life, sexual life, personal life and life in general.

But thanks to David's courses now I have built enough emotional and spiritual strength through his therapeutic processes and understanding my needs and purpose in life. I wouldn't say that I'm a master (yet), but I know that as a result, I've begun to tackle and make significant progress on them all through David's course."

- Matthew Devonshire,

29, London, UK
This program with David Tian has been the most life changing course I've ever taken. A year ago I was very depressed and trying to get over my recent divorce and couldn't seem to find a way to get better. I felt very empty and unfulfilled.

I honestly believe that if I didn't go through this and learn about how healthy relationships work, what a healthy psychology is, what really drives my emotions and behaviors, then I would have kept repeating the same types of toxic relationships over and over. Never truly being happy and never really feeling love.

Of course this program takes work, it's not just passively listening to it. You have to do the exercises and put in the work like all good things in life. If you do, then you will notice a huge difference not only in your relationships, but in your life overall.

I feel much more fulfilled now than I ever have. It's the first time in my life that I feel like I can be in a healthy passionate relationship.
This isn't a tricks and techniques course like the vast majority of courses out there. This is a life changing course and changes your own psychology permanently. You will change for the better. If you've ever felt unfulfilled and empty like I have, this will help you so much. There's so much value in this course and it doesn't only help you in relationships but in every aspect of your life, including your life purpose and finding your true self.

Thanks again David for all your work and in creating a course that I'll be reviewing over and over again in the future!"

- Gregory Beck,

41, Los Angeles, USA
What Sets Freedom U Apart From Any Other Program
#1 Lifetime Access: Retake The Program Again And Again, For FREE!
The path to mastery in any field is through focused repetition. This is why, for as long as the program is in existence, you can retake the new version of the program every year at no additional charge.
#2 Extraordinary Customer Care
Our Customer Happiness team is unparalleled. Whatever you need, we're here to help you. You'll always be taken care of with understanding, honesty, and respect.
#3 Personal Coaching From David Tian, Ph.D., To Guide You
In Freedom U, you won't be on your own. David Tian will be answering your questions directly, challenge you to stretch further, and inspiring you to stay in action. Our community
Our community is filled with extraordinary human beings. Simply stated, there's no other program in this area that maintains such high standards of integrity, courage, and authenticity among its members.
Registration Is Currently Closed
Enrollment opens only a couple times a year. To be notified of our next registration period, enter your email address below:
If you have any further questions about the program, just email us. We're happy to answer any questions you might have and help you make the wisest choice for you. Click here to send us a direct message.
© Copyright 2009 - 2023 | David Tian Ph.D | All Rights Reserved